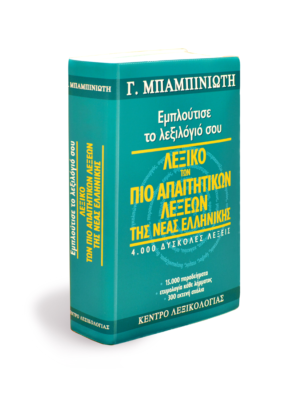 1st edition, (2015) coloured
Format: Flexi cover
Pages: 1.432
Size:  12,5 x 19,5 cm
ISBN: 978-960-9582-08-7
---
Enrich your vocabulary!
The Dictionary of the Most Advanced Words focuses on enriching the speaker's vocabulary with advanced, demanding or difficult words, which are often encountered in literature and contemporary texts of various subject areas. Such words, while outside most people's everyday vocabulary, are used at a higher communication level, when a more creative, powerful, learned and precise language is needed.
The dictionary includes 4.000 entries, followed by clear, simple and concise definitions, selected synonyms and phrases. All entries are provided with reliable etymological information. About 300 usage notes provide insight into common mistakes, differences between closely related or confused words, and meet the needs of the most demanding readers.
A key factor of the dictionary is marked by its 15.000 examples (most of them drew on authentic material, especially from databases and a wide range of various current sources). Apart from its value to the dictionary's reliability, this collection of examples assists the reader to realise how each word is used, how it appears in real speech and writing and illustrate its meaning, lexical context, grammatical construction and style.
Of great importance is the use of more than 1.100 selected citations from named sources (i.e. major writers from Modern Greek literature, such as Papadiamantis, Elytis, Palamas, Seferis etc.) featured in the dictionary. These quotations provide immense and in-depth evidence of the literary development of the words.
The Dictionary of the Most Advanced Words is a handy reference tool to enrich our vocabulary and integrate into our speech and writing distinctive features of demanding and quality language.
Briefly:
4.000 entries with clear and concise definitions, selected synonyms and phrases
Short etymological information for all entries
300 extensive usage notes answering possible questions
15.000 examples assisting the speaker to realise how each word is actually used
1.100 selected citations from Modern Greek literature