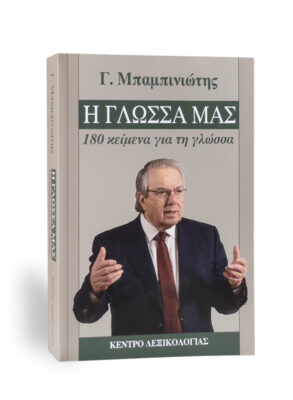 1st edition (2020)
Pages: 672
Dimensions: 153 x 237 mm
ISBN: 978-960-9582-16-2
Publications: LEXICOLOGY CENTRE
180 texts by Professor G. Babiniotis are presented in this book, consisting essentially a "linguistic legacy" for those who love language. Well-written, intriguing articles by a linguist who has been involved for more than 40 years in research, study and teaching of language, especially Greek.
The book consists of 13 sections:
Understanding language: Basic concepts
Aspects of the history of the Greek language
Linguistic scholars
Language education: Teaching language at school
The world of words
Grammar and syntax: The mechanism of language
Linguistic diversity: Native, second and foreign languages
Quality in language
Language and literature
Language and politics
Language and religious tradition
Writing and orthography
Etymology: The gateway to the charm of language
These articles "wandered" for a considerable period of time mostly in the hospitable "Sunday's Vima", several in Professor Babiniotis' book Meditations on language and on our language (ed. Kastaniotis, 2010), others in various sometimes hard to reach places, as well as a few that appear here for the first time, are now available (all 180) in this book! "He felt it," as the author states, "as a necessity: his own and for those who love our language."
Some indicative issues that will attract the reader's attention:
What are the three main levels of language?
What constitutes quality and aesthetics in language and communication?
Dictionary and grammar in language teaching
Is historical orthography necessary?
Etymology as word history
Multilingualism and linguistic diversity
What is the state of the Greek language at the beginning of the 21st century?
Anyone who loves language and would like to discover its essence in greater dimensions and depth, anyone who wants to enter the "magic" world of language with a reliable and attractive pathway to linguistics but without prerequisite knowledge, he will better appreciate the content and purpose of this book.